Ellen W. Randolph (Coolidge)

to

Martha Jefferson Randolph

Although I have not time to answer your letter at length my dearest Mother yet the subjects of it are so interesting, that I write a few lines mainly to let you know that I have recieved it. thank god the most urgent of my dear fathers debts can now be paid off, and after the sale of Varina we may yet look forward to years of peace and comfort. the seal with the little cupids struck me when I first saw it & knowing how much you admired little devices of the kind I made use of it on purpose that you might remark the impression. I little thought that your mind was in such a so melancholy a state as to make you hail as ominous what was almost accidental; if I had had any suspicion of the kind, the childish joy with which I stamped the sealed my letter would have given place to feelings of alarm and anxiety, from which that your tenderness has saved me from. in every happy circumstance of my life I can trace your influence; every virtuous feeling, every correct principle seem to be derived from your maxims and example; to you I am indebted for every thing, & I can only repay you by an affection better concieved than described.—

I am quite recovered from my rheumatism, although the attack was severe and confined me some days to my room.—write to me again dearest Mother, for your letters afford me a much greater pleasure than any that can be derived from the gay scenes in which I am an actor; they produce a beneficial effect upon my mind, they strengthen and confirm all my good resolutions, they comfort me for every trifling mortification & remove every uneasy feeling by making me remember, that although I in seeking for amusement here I may be sometimes disappointed, I am not dependent for happiness upon any of those by whom I am at present surrounded.—

I have shamefully neglected poor Cornelia's request of making out a list of the books which I read under Grand papas direction I have not time for it now but by the next post she shall recieve it. Adieu—a great deal of love to all the family, not forgetting "doldy lots" and her charming mama—

I will look for the music book for V. and in case I should not be able to procure one it, Maria Lindsay has one I know think which belonged to her Sister Mrs Waddel. Virginia might borrow it and copy whatever she wanted. farewell dearest Mother I write in a very great hurry and have only time to assure you once more of my affection.

RC

(

ViU

: Ellen Wayles Randolph Coolidge Correspondence).
Kopačky na fotbal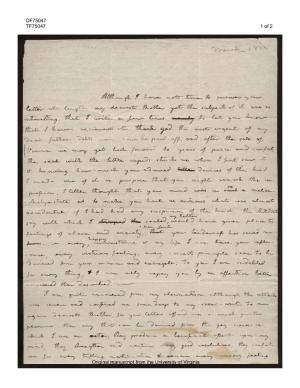 Date
January 1, 1819

to

December 31, 1825