Ellen W. Randolph Coolidge

to

Martha Jefferson Randolph

I will try to write a few lines to you dearest mother, although my eyes are still very weak, merely to say that I am doing well. I am still feeble, and it will probably be long before I recover my strength, but otherwise I have no cause of complaint. my poor baby has been dangerously ill, [. . .] so much so that at one time I had little or no hope of his recovery. a week ago we sent for Mr Greenwood and had him baptised thinking his situation so critical that it would be unwise to defer what I consider an important ceremony. he is now however a great deal better and I feel comparitively at ease on his account. poor little boy; he is one of six babies, three of whom are at the breast, but during his illness, I did not feel as if I could spare him, young as he is, & uninteresting to all but partial eyes. my others thank heaven are so far well, but I watch them with a sort of trembling anxiety which makes me say with Mrs Hemans "tis wo enough, with such an aching tenderness, to love aught earthly." I suppose my separation from all my early friends has had a tendency to concentrate my affections upon a point where in the course of nature they would, in any case, have been too strong for any [. . .] tranquil pleasure.—It grows cold here, and looks like the approach of winter, I presume you will soon think of returning to Washington. Hannah Stearns paid me a visit upon her arrival here, and I had an hour's pleasant conversation with her. she told me much of you all & I anticipate great satisfaction in her society as she proposes to establish herself in Boston. but I have written as much as I dare, and must finish at another opportunity.

Aug. Sep. 27. my baby continues to get better, and if I had only nourishment enough for him, would I have no doubt make a fine boy; he will be half-starved I am afraid for I make as usual a miserable nurse. I suffered so much less before his birth than I had ever done before, & got through upon the whole so well, that I had formed sanguine hopes of improvement in other respects, but there is no resisting destiny. I am almost a convert to the doctrine of necessity, and feel inclined to wish that I could become wholly so and thus avoid those useless strugglings which embitter without changing the "weird" that after all "we maun dree." I think there would be a sort of dreary comfort in setting down with the conviction that there was nothing to be done but just to make the best of what must necessarily happen.

Joseph received a letter from you since I began to write containing some particulars of this disastrous insurrection which I had refused to believe the existence of until it was impossible to doubt any longer. I am very sorry they should think it necessary to harass the slaves of the middle counties with precautions which betray distrust & excite resentment. for my own part, so convinced am I of the perfect fidelity of the negroes in Albemarle & the adjacent country, that I would just as soon fix myself among them with my six younglings, and should feel just as secure as in the middle of New England. I am very glad that my children are natives of a land where slavery is unknown and that they will be brought up at a distance from so great a moral evil, but persons who are accustomed to the habits and manners of the South find it very hard to accommodate themselves to a totally different state of things. the emigration of parents from the slave-holding states I consider as a sacrifice to the good of their children.

There are two french gentlemen at present in Boston with whom I think you will probably become acquainted in Washington. one of them is a friend or kinsman of the Chevalier de Luzerne and both are said to be men of intelligence, information & highly pleasing manners. they speak English perfectly and have had great success in society here. their names are the Counts de Toqueville & Beaumont. several Virginians were here have likewise been here during my confinement whom I regretted not to have seen as they were old acquaintances: among others Jack Heth, with his sister Virginia, & his wife whom I knew slightly as Margaret Pickett, & his niece Miss Randolph, Mrs Coolidge's cousin as they called her here, though I am sure I should be puzzled to make out the relationship. Mr Heth brought a letter to Joseph from Andrew Stevenson and dined with a party of gentlemen both here at this house and in Bowdoin Street. there were also several South Carolinians who visited our city this season. two of them particularly, Mr Legaré (pronounced Legree) distinguished in the literary world, & Mr Lynah were here several times an[d] received all the attention Joseph could pay [. . .] at which I was much gratified, as I look upon South Carolin[a] as entitled to all the [. . .] respect and grateful affection which the descendants of Thomas Jefferson can never again feel for their native State.—I have seen Hannah Stearns only once, but hope after her return from the Country, to become better acquainted with her. I fear she will find great difficulty in making up a school here in this place, the business is already overdone. I would gladly confide my girls to her care but they are to a certain degree pledged. It is high time they were in some good training for I have neglected them sadly. the business of having children when it is so systematically carried on, as in my case, leaves little leisure for any thing else. when Jefferson was born Tom the oldest of four boys was not quite two years & eight months old. my twins are [. . .] pretty creatures in my eyes at least. Algernon the eldest has as fine a forehead as I ever saw, they have both clear blue eyes, light silky hair, high noses and are very much alike. the youngest whom we call Sydney is not quite so stout & has not as fine shaped a head as the other; but they want nothing but color red cheeks to make them handsome. they are plump enough but have skins the color of chalk. your boy Tom is the most warm-hearted little fellow I ever knew and is so grateful for any little share of attention that falls to his share part that I am sometimes quite touched by it.

farewell dearest mother love to all including Jane's family & such of my kind neighbours as still remember me. I always forgot to tell you that Elizabeth Swett is "as women wish to be" &c but although I believe she loves her lord as much as most ladies, she is in great wrath on the present occasion. she expects very soon & is a sight to behold. Susan Elizabeth's prospects are rather uncertain.

RC

(

ViU

: Ellen Wayles Randolph Coolidge Correspondence); unsigned; torn at seal; addressed: "To,

M

rs

Randolph

to the care of

Thomas J. Randolph

Edgehill

near

Everettsville. Albemarle. Virginia

"; stamped; postmarked

Boston

, 30 Sept.
Air Force 1 Sage Low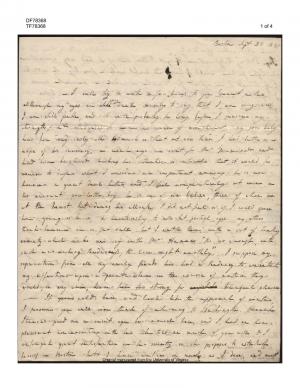 Date
September 25, 1831

to

September 27, 1831