Virginia J. Randolph Trist

to

Nicholas P. Trist
Washington

April 10

th

1835
I despatched a letter to you yesterday, dearest Nicholas, and in the evening Mr. Van Buren informed us of the defeat of Brother Jeff. & Mr. Rives. The news came to him in a letter from Mr. W. Rives, who says the belief is that when a scrutiny of the polls takes place the number of bad votes which will be detected for Messieurs Gilmer & Southall will place the gentleman gentlemen in the minority & oust them from their ill gotten dignity. I will not, "make your corruption1 rise" as Winifred Jenkins expresses it, by a recital of the tricks made use of by Ms. G. & S. to deceive the people. You must keep cool in that feverish clime—and hope to hear that the apparently elected members are thrust out.
Poor Mr. Easton died at 9 o'clock last night. I have not heard yet from poor, dear old Mrs. Easton.—her "occupation is gone" and I really fear the consequences of her loss will be too much for her.
April 17th Cornelia has written to you since I began this letter, dearest, it was the day after Mama was taken ill, and I did not suspect how serious it was going to be. This is the 9th day, and She has at this moment a blister on her stomach; and Dr. Hall who attends her has been in and felt her pulse already twice to day, and will come again in the evening. he is very attentive, and very tender in his treatment of her, and no doubt all that medicine can do and nursing will be done. We watch the struggle of the dis her shattered [. . .] constitution enfeebled by age, with the disease, and await the crisis with the alternations of hope and fear which are natural. with [. . .] The life of a mother—such a mother—so idolized—hangs on a thread. But these thoughts I dare not indulge—I [. . .] Sicken at them.
18th I have this morning received your letter of April 3d that you speak of having written a few days before, the few hurried lines, have never reached me.—the Dr. found Mama's pulse less frequent this morning, ten beats, he said. but he appears to think that there is no very material change. this is the tenth day. Last night I watched by her with the nurse,—we have found it necessary to get one—I laid down on the sopha in her room and slept til 20 minutes past one, during which time She slept, the doctor left some powders to be given her in the night, for which She was not to be disturbed however; and She takes nourishment a table spoonful at a time of cream or chicken water & such things every hour when She is awake. The nurse and myself sat up from one 'til five oclock in the morning, watching an opportunity to attend to these directions, when She first woke She was [. . .] in a very restless state, her pulse much excited, we thought by the blister on her stomach, and She could not compose herself to sleep. I was sitting by the bed side and She began to talk to me of her uneasiness at on the subject of the division of her little property among her children, and some other arrangements [. . .] She wished to make. I begged her not to worry herself about any thing until She felt better; but her answer was that her head was perfectly clear at that moment, and She must take advantage of it as there was no knowing what might happen the next, day; and She added that the happiness of so many depended on the arrangements She wished to make that her mind wcould not feel tranquil til it was done. She wished me to write what She Should dictate. I told her I would do it to tranquilize her mind, but that I believed She would get well and make all arrangements herself. She told me then said She had believed from the first that She should not recover. She then gave me the most particular and clear instructions as to the disposition of her property. She not only mentioned all her children, but each individual [. . .] of her servants. I knelt down upon the floor by the lamp and wrote them; and when I had done this I went to her bed side & told her I had done as She directed, and I hoped She would quiet compose herself to sleep. She asked me if I did not think She could sign it, and I begged her not to do it because the Dr. had said that it was injurious to her to exert herself in the least. She then requested me to call Cornelia & Sister Ellen who were taking care of Sidney in the next room, as She wished to repeat to them what She had told me; this I thought it best to do also, hoping to quiet her, although the Dr. had repeatedly said She must not talk or be talked to more than could be avoided. after She had seen them She became tranquil & fell asleep. and at five o'clock I laid down on the sopha & took a nap.
19th The Dr. came last night at 11. o'clock & pronounced Mam[a] to be decidedly better. This morning he finds her pulse lessend by Sixteen beats—yes day before yesterday it was 120. yesterday 112. to day 96. he considers her doing well. I am now writing in her darkened room to which the shutters are closed & curtains drawn, and over the curtain of one window the doctor with his own hands hung a long blk Shawl which covers it completely. the children are shut up in "misne dayet" as [. . .] calls the garret room I occupy (the large room) and kept there except when we bring them down one at a time for change of air & exercise. the rocking horse is now a treasure. Dr. Hall's extreme attention to Mama, and the tenderness of his manner to her, his soothing way of speaking to her, has won our hearts completely. Adieu my own dearest, my heart is greatly relieved since I began this letter. I will write in a few days again. Sid is doing well, though his fever continues pretty high. Pat asks me often when Father will be at home. She wishes to know the very day.
God bless you and restore you to me in safety. No news of Lewis yet. And no news of the money either from Julian or Mr. Edwards.—
20th I have kept my letter open to say that Mama had a delightful night—and the Dr. found her doing very well this morning. pulse reduced to 92. beats If she has no relapse all will be well, and we happy again.
RC
(
NcU: NPT
); torn at seal; at head of text: "No. 4"; addressed: "To
N. P. Trist
Consul for the united States at
Havana
"; endorsed by
recipient
: "
Trist, V. J.
rec
d
May 19
th
'35."
winifred jenkins was a character in The Expedition of Humphry Clinker, by Tobias Smollett (London, 1771).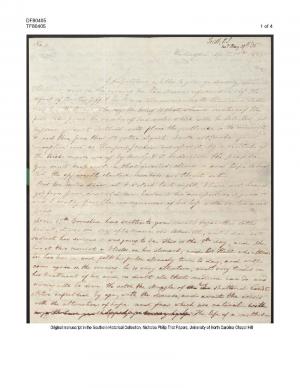 Date
April 10, 1835
to
April 20, 1835